Learn more about preventative maintenance
Complete Auto Repair Services
Aftermarket
Air Conditioning
Air Filter Replacement
Alternators
Anti-Lock Brakes (ABS)
Axle Replacement
Batteries
Battery Replacement
Belts & Hoses
Brake Systems
Catalytic Converters
Clutch Repair
Computer Diagnostics
Diagnose & Repair Check Engine Lights
Diesel Service
Drive Axles
Electric Cars
Electrical
Emissions System Repairs
Exhaust System & Mufflers
Fix Rattles, Squeaks & Bangs
Fleet Service
Fuel Injection Cleaning
Gas Service
Heating System
Light Replacement
Oil Change
Power Steering
Power Windows & Doors
Preventative Maintenance
Radiator Service
Scheduled Maintenance
Smog/Emissions
Starters
Steering
Suspension Work
Timing Belts
Tire Balancing – Tires up to 28" Tire Pressure Monitoring Systems (TPMS)
Tire Pressure
Tire Repair
Tire Sales & Service
Towing Service
Transmission Service
Tune-up
U-joints
Water Pumps
Wheel Alignment
Wheel Balance
Wheel Bearings
Your dealer alternative
USA Automotive is a family owned and operated auto repair shop located in Morgan Park that has been serving Chicago, Illinois and the surrounding areas with quality auto repairs for over 30 years.
At USA Automotive, our goal is to provide our customers with a warm, friendly and professional environment and to ensure that the total experience meets or exceeds everyone's expectations. We specialize in domestic and foreign cars and trucks. Read more...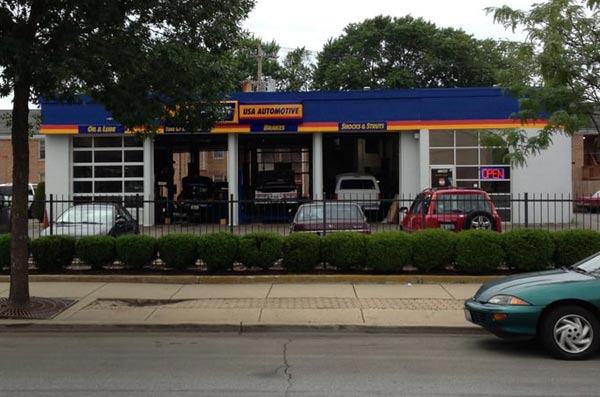 ---
WE REMAIN OPEN AND READY TO SERVE OUR CUSTOMERS.
At USA Automotive, we are doing our part to help combat the virus and keep people healthy. We are asking our customers to drop off their cars. We will remain open during this crisis because we are an essential business. We understand how important your vehicle is now more than ever. Call us today at (773) 238-1333.